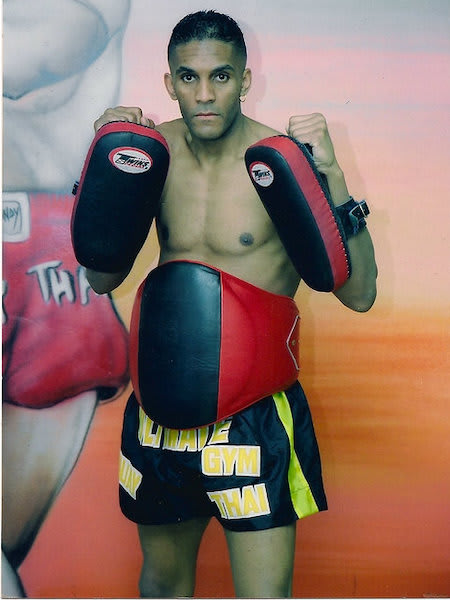 Kru Nestor Marte
Head coach and founder of Ultimate Gym, Kru Nestor Marte brings over two decades of martial arts experience.
Kru Nestor Marte is a pioneer in bringing Muay Thai to U.S. shores and is the first and only American to be certified by three top camps in Bangok: Saktaywan, Luk Bahn Yai, and Sor Sil Kune. Training at these three distinctively different sister camps Kru Nestor has aquired the knowledge, skill, culture and language of Muay Thai and Thai culture and thus is able to give his student the most possible authentic teachings and fighting spirit of Muay Thai in the U.S.
Kru Nestor has over 20 year of experience in training and fighting in Bangkok, the Province of Kohrlat and in New York City. He has been privileged to train at the top Muay Thai Camps in Bangkok: Kiet Bong Chong, Kari Boy, Sak Mon Tree as well as Southern Thailand's best camps; Petch Nueng Reung, Sit-Or and the world famous Sithpholek and Sityod-Tong.
A personal student of Master Trainer Adjarn Prasit Thang Dong and eight times World Champion, Chang Puek Kietsong Krit, he has had the honor and pleasure to train with some of the greatest Muay Thai Fighters in the world.
Kru Nestor Marte is a considered a leading expert in the art of stand up fighting. When MMA fighters such as Renzo Gracie, Ricardo Almeida, Ryan Gracie, Anderson Silva, and Assuerio Silva and Israel Gomes needed to train their stand up, they sought out Kru Nestor Marte to brush up on their technique.
No longer a competitive fighter, Kru Nestor still makes bi-yearly training trips to Bangkok to keep on top of Muay Thai's latest techniques, regulations, training strategies and conditioning methods.
Over the past few years, Kru Nestor has been studying and developing his ground fighting skills, training with Teimoc Johnston-Ono (former Olumpic great Judo Master), Sensei Edson Carvalho (Brazilian Jiu-Jitsu), and Israel Gomes (Vale-Tudo Champion).
Kru Nestor is also very fortunate to become and be accepted as a personal student of the legendary Brazilian Vale-Tudo and Luta Livre fighter Master Eugenio Tadeu. Kru Nestor has continued his training with Alexander "Pequeno" Nogiera and is currently a Luta Livre black belt and the only US representative for Team Pequeno.
Kru Nestor is fluent in English, Spanish, Portuguese and Thai.
Specializations
Muay Thai
Luta Livre
Boxing
Strength Training
Training amateur & professional fighters